Futuristic Fembot "Jia Jia" Is One of the Most Sexist Robot Creations Yet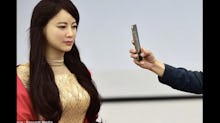 Meet Jia Jia. She smiles when men speak, calls men "lord" and tells men how to take more flattering photos of her. She's one of the most realistic humanoid robots ever made — and one of the most subservient, too (second only to this dude's $50,000 Scarlett Johansson clone and, you know, actual sexbots).
The future of robotics is dominated by men bringing their fantasies to life, and the next generation of humanoids is shaping up to be a silicone load of sexist bullshit.
A robot research and development team at the University of Science and Technology of China spent three years developing Jia Jia. It can speak with realistic lip movement, make facial expressions and move its body, according to team director Chen Xiaoping, as reported by Xinhuanet.
Jia Jia also knows a thing or two about selfies. "The photos taken from your angle will make my face appear bigger," it says in a video report from New China.
And, "Yes, my lord. What can I do for you?" 
In the years the team took developing Jia Jia, it didn't seem to occur to them that these statements could be problematic, portraying women with low self-confidence or in a subservient role.
"Considering the amount of resources that went into bringing this modern marvel to 'life,' that's the last thing I would expect an advanced humanoid female robot to communicate to me," Katie Aquino — aka Miss Metaverse, founder of BodAi — told Mic in an email. "Developing advanced humanoid robots comes with a responsibility to elevate humanity rather than perpetuate outdated and harmful stereotypes." 
Robotics, even humanoid ones, can provide positive services. They can help senior citizens, hospital patients and kids with autism. This is not the case with Jia Jia. Instead, this robot is portrayed as a self-conscious and subservient "goddess," according to Xinhuanet — its positive influence on society remains to be seen. 
This is similar to what we saw in the probably Scarlett Johansson robot, a humanoid robot a man modeled after a Hollywood actress for no other purpose other than to bring a fantasy to life through modern tools. Modern tools alone don't make something modern — especially if it exhibits a backward or offensive point of view.
"Tech entrepreneurs have a responsibility to bring joy and ease to people's lives through their inventions," Aquino said.
Stay tuned: I'll be creating my own male robot in the coming weeks: a giant dick with biceps that says "fuck the patriarchy" on command.