12 Powerful Photos From the Democracy Awakens Protest in Washington, DC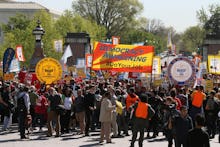 On Monday, activists from the groups Democracy Spring and Democracy Awakening, protesting, among other things, the role of money in U.S. politics and voter ID laws that many have criticized as discriminatory, gathered on the steps of the Capitol building and the surrounding streets to make their voices heard. Demonstrators have used the hashtag #DemocracyAwakens to share the progress of the demonstrations on social media, and to spread the news about hundreds of protestors who have been arrested around the capital.
Since the dual Democracy Spring and #DemocracyAwakens protests began last week, over 900 activists have been arrested by Capitol Police, reports USA Today, for "crowding, obstructing, or incommoding." According to the NAACP's official Twitter account, the organization's President, Cornell Brooks, was among those arrested while protesting on Monday. Ben Cohen, co-founder of ice cream company Ben and Jerry's, was also among those detained, reports RT.com.