This Rainbow Grilled Cheese Is the Sandwich Your 5-Year-Old Self Always Wanted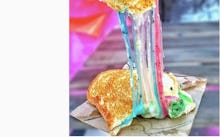 Grilled cheese sandwiches are pretty much the perfect food for everyone — young and old. While the standard combo of American cheese, white bread and butter will always be a staple, there's a new grilled cheese on the block that's giving the old version a run for its Instagram likes: the rainbow grilled cheese toast. Your 5-year-old self is exploding with happiness right now (we know).
The rainbow-colored cheese sandwich is sold at Kala Toast in Hong Kong. 
The rainbow grilled cheese isn't just perfectly Instagram-able, it's an adventure for the tastebuds, too.
According to hkfoodblogger, the different colors have different flavors. The blue is lavender-flavored, the green is like basil and the red tastes like tomato. The yellow, according to blogger, is a combination of mozzarella, cheddar, Emmental and Gruyere cheeses. 
It's definitely pretty, but it may not be the best grilled cheese out there.
According to hkfoodblogger, the rainbow grilled cheese is on the oily side. "I would say the quality was rather average, but we all cannot deny that it is photogenic," the blogger wrote.
If you don't want to go the rainbow route, you can also class up your grilled cheeses by using fanicer cheese. 
Read more: Rainbow Bagels Are Just One of the Super Instagrammable Foods We Don't Really Want to Eat
h/t: Buzzfeed