'Hamilton' Musical, Lin-Manuel Miranda Just Won the Pulitzer Prize for Drama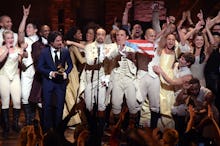 The historical hip-hop musical Hamilton just snagged another major win — on Monday, the Broadway blockbuster's creator and star Lin-Manuel Miranda was awarded the 2016 Pulitzer Prize for drama, Variety reported. 
Manuel welcomed the news with a series of Twitter reactions.
This is just the latest accolade for the musical, which also won the 2016 Grammy for best musical theater album and is expected to take home a slew of prizes at the Tony Awards in June.
The 2016 Pulitzer Prize winners were announced on Monday afternoon at Columbia University's Pulitzer Hall in New York City. 
An hour before the announcement, Manuel tweeted that he was in the recording studio working on an upcoming project, saying, "Don't do anything crazy without me, world." 
Sorry, Lin.