Here's One Example of the Racism Indigenous Men Face on Grindr in Australia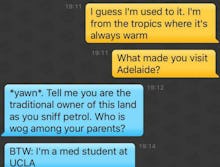 Looks like racism on Grindr is a problem for our neighbors Down Under, as well. 
Twenty-four-year-old Dustin Mangatjay McGregor of South Adelaide, Australia, used his Facebook page to share what was really happening when he spoke to men on gay hookup app Grindr. The images he shared show several different men approaching him with slurs used for indigenous and nonwhite people. 
McGregor, a university student who identifies as indigenous, shared these images publicly on his Facebook not to garner sympathy, but because he wanted other people to be aware of the discrimination people face in the gay community — and that some people suffer in silence. 
"It makes me so angry, because I know that other people out there get this sort of abuse on a daily basis and they get it even worse than me and  they're more vulnerable than me," he said in a phone interview. "In the gay community in general, if you're not a certain level of attractive or have a certain body type or you look a little bit feminine, you get shunned. You feel isolated. I wanted to bring the racism to light, but then bring to light all the forms of discrimination that people receive."
McGregor was raised in a small aboriginal community in the Northern Territory, a region in Australia with a high indigenous population. 
According to McGregor, the posts garnered a very strong reaction after he posted them on Facebook. Some of his friends had no idea he received this kind of treatment online from strangers. McGregor said that he hoped sharing his messages would raise awareness of the racism that still permeates the gay community. 
Grindr has over 7 million users worldwide, which means that people of different cultures are bound to rub up against one another on the app. But, that definitely means there will be some friction, too. Many different communities of color — Asian men, Muslim men and men of color in general have all spoken out about vehement racism on Grindr. 
McGregor says that most mistreatment comes from the general conception of what we consider attractive, namely: fit, white and male. 
"Anything that differs from that, the further you diverge from that, the worse it gets for you," he said. "The more ill-treated you are."