This Texas Pastor May Have Just Falsely Accused Whole Foods of Writing "Fag" on His Cake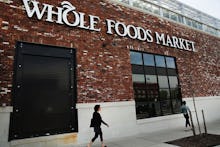 Get the five stories that will challenge you to rethink the world by signing up for MicCheck Daily.
Texas pastor and founder of the Church of Open Doors Jordan D. Brown tweeted a photo Monday of a cake he had allegedly picked up from a local Whole Foods, saying, "That's not the cake I ordered, @WholeFoods and I am offended for myself & the entire #LGBT community." 
The cake in the photo had "Love Wins Fag" written on it in frosting — a message that would likely be upsetting to many. The only problem? Whole Foods says Brown made the entire thing up.
In a statement on their website, Whole Foods maintained that the request had been for a cake that said "Love Wins," and that's what the customer got.
Our team member wrote "Love Wins" at the top of the cake as requested by the guest, and that's exactly how the cake was packaged and sold at the store. Our team members do not accept or design bakery orders that include language or images that are offensive.  Whole Foods Market has a zero-tolerance policy for discrimination.  We stand behind our bakery team member, who is part of the LGBTQ community, and the additional team members from the store, who confirmed the cake was decorated with only the message "Love Wins."
Brown announced on Twitter that he planned to hold a "press conference," ostensibly about the cake on Monday afternoon. Brown's congregation, Church of Open Doors, bills itself as a "place where all can experience God" and "LGBT friendly." 
As of Monday evening, Brown hadn't addressed Whole Foods' response on Twitter. It's not yet clear whether the cake he allegedly received, which had "fag" written in the middle in frosting, was altered after purchase, or was, despite Whole Foods' official response, the fault of someone behind the counter. But many on Twitter are already accusing Brown of staging the entire thing.
A spokeswoman for Whole Foods confirmed to Mic that, on Wednesday, Brown filed a lawsuit against the company "for intentional infliction of emotion distress."
On Tuesday, Whole Foods released a statement saying that the company believes Brown's "accusations are fraudulent" and plans to "take legal action against both Mr. Brown and his attorney." 
April 19, 2016, 3:55 p.m.: This story has been updated.