2016 New York Republican Primary: Donald Trump Steamrolls John Kasich and Ted Cruz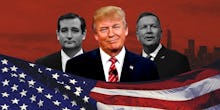 Donald Trump annihilated his foes in Tuesday's Republican presidential primary, romping to a decisive win in his home state and racking up more delegates in his quest for the nomination.
The Associated Press called the race for The Donald at 9:00 p.m. Eastern when polls closed:
Trump's Empire State victory was a foregone conclusion.
Ahead of the contest, RealClearPolitics polling averages showed him with more than 53% support, followed by John Kasich at just under 23% and Ted Cruz trailing at about 18%.
He held his victory party at — where else? — glittering Trump Tower in midtown Manhattan.
"We are going to be legitimately so great again, and I just can't wait," Trump said. 
"We don't have much of a race anymore. Based on what I'm seeing on television, Sen. Cruz is just about mathematically eliminated" from a viable path to the nomination, he continued.
Doing the math: Coming into Tuesday's vote, Trump had won 756 delegates of the 1,237 needed to score the GOP nomination, per an RCP tally. Cruz had 559 and Kasich had 144.
New York has 95 delegates to award. It's not a winner-take-all state; in fact, the rules are kind of complicated.
There are 27 Congressional districts in the state, each with three delegates. If a primary candidate wins more than 50% of the vote in the district, he snaps up all three — but if he falls short, the runner-up can grab one.
The remaining 14 "at large" delegates are awarded based on statewide performance.
New York values: While Cruz is running a reasonably close second to Trump nationally, he found New York, as the song goes, a hell of a town. 
The Texas conservative did hit the stump in the state, with more success at some trail stops than others — perhaps in part thanks to an early cycle slam on "New York values" that was meant to drag frontrunner Trump down in more conservative states, but didn't play well in the Apple.
Cruz got burned in the Bronx — twice. 
Hecklers called Cruz out as a "bigot" during a restaurant stop. He scratched a planned school visit after students threatened a walkout in protest of his hardline stance on immigration.
He enjoyed a warmer reception in Brighton Beach, Brooklyn, where Orthodox Jews, some wearing red Cruz 2016 yarmulkes, cheered him after he visited a pre-school where children were making matzoh in advance of Passover.
Silver medalist? Kasich also tipped his hat to the Orthodox community with a visit of his own to a matzoh bakery and a school in Borough Park, Brooklyn.
The Ohio governor trekked to the outer boroughs after delivering a warning-filled Manhattan speech urging voters to spurn the "dark" side of the bitter GOP contest and join him in treading a more hopeful path.
The candidates made campaign sweeps upstate and in the Westchester and Long Island suburbs, where Republican voters are easier to find in large numbers than in the five boroughs.
All three hopefuls returned to Manhattan to make their pitches to potential supporters at the April 14 state GOP gala, with Kasich just having scored the endorsement of New York's last Republican governor, former presidential hopeful and continuing Trump critic George Pataki.
Outside the Grand Hyatt — and briefly, within — throngs of demonstrators took to 42nd Street in protest of what they called Trump's hateful rhetoric.
The next major Republican primaries come April 26. 
Five states vote that day, with the big prize being Pennsylvania and its 71 delegates.