14 Striking Images From the Taliban's Biggest Attack in Kabul in 15 Years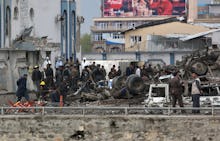 A massive car bomb detonated around 9 a.m. local time in Kabul, Afghanistan's capital city, has left at least 28 dead — a number likely to rise — and 327 injured. The Taliban quickly claimed responsibility for the suicide attack. 
The bomb went off in a densely populated area of the city, near government buildings. A gunfight between attackers and Afghan security forces at the site ensued. 
Qais Azimy, an Al Jazeera senior producer based in the country, said the attack was probably the biggest Kabul has seen in 15 years. 
"This was one of the most powerful explosions I have ever heard in my life," police commander Obaidullah Tarakhail, who was near the site when the bomb went off, told the Associated Press. It took 20 minutes for Tarakhail to recover his hearing and for him to be able to see anything. "All around was dark and covered with thick smoke and dust."
Just one week prior to the attack, on April 12, the Taliban announced the beginning of their "spring offensive," also referred to as "Operation Omari," named after the terrorist network founder Mullah Mohammad Omar. The offensive seeks to topple the American-supported government. 
"Jihad against the aggressive and usurping infidel army is a holy obligation upon our necks and our only recourse for re-establishing an Islamic system and regaining our independence," the Taliban announced in a statement, Reuters reports. 
"[We] condemn in the strongest terms the terrorist attack in Puli Mahmood Khan neighborhood of Kabul, as a result of which many of our countrymen were martyred and wounded," President Ashraf Ghani said in a statement, according to the Guardian. "Such cowardly terrorist attacks will not weaken the will and determination of Afghan security forces to fight against terrorism."