Sia's Coachella Performance Had People's Jaws Dropping — Watch the Video Here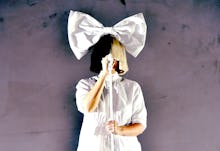 Coachella has been a headline-producing festival this year for being the home of star-studded cameos, as well as rumored love affairs between household names (good to see you again, RiCaprio). 
But it was Sia's Monday night performance that had people talking, when the famously camera-shy singer performed some of her biggest hits on the main stage from behind her iconic two-toned wig — and the singer's mini-me, Dance Moms star Maddie Ziegler. 
But, according to multiple videos uploaded online by audiences, nobody really had any idea it was Sia, or Ziegler, up on the stage to begin with. The Los Angeles Times' Mikael Wood said an onlooker asked him if it were a llama they were seeing on stage, rather than yet another international pop star making a surprise cameo performance in a blunt wig and "huge, fluffy dress." (Not a common mistake, to the best of our knowledge.) But indeed it was Sia — and Ziegler.
And that's perhaps why Sia's performance is the cherry on top of a sweet weekend in the California desert — instead of lip-syncing, as many artists did during this year's festival, or simply coming out for one or two songs during another artist's set, Sia left herself on the main stage of Coachella, putting her heart, soul and vocal adroitness into the performance. 
From some of her most critical successes like her 2004 "Breathe Me," to some of her more recent hits like "Chandelier," Sia gave a profound and mysterious performance in the midst of a very non-mysterious event. Though she did happen to have several of her celebrity friends join her during Coachella's final night like actress Kristen Wiig, they only made on-screen cameos performing Ziegler's iconic dance performance. 
Check out the set below:
Read more: Kesha Surprises Coachella With Moving Performance Showing Her "True Colors"