Samantha Bee Cannot Shut Down Overly Positive "Bernie Bros" on 'Full Frontal'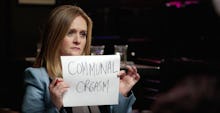 Having previously dealt with young, educated Trump supporters in a focus group last month, Samantha Bee flipped the script Monday to talk with supporters on the other end of the spectrum: those feeling the Bern. Ahead of Tuesday's New York primaries, the Full Frontal host sat down with what she described as an "impossibly diverse panel" of Vermont Sen. Bernie Sanders supporters to understand their unrelenting optimism in the election. 
"I'm not here to bash Bernie," Bee says. "I'm just here to understand your optimism, stick my fingers in, roll it around in my hands and restore myself to the person I used to be." Right on cue, a supporter responds, "If you're feeling bad, we can all give you a hug." 
Bee tries to throw cold water on all their positive vibes, noting that President Barack Obama had inspired hope and change prior to being elected, and still struggled to work with a divisive Congress. "So all of these conservative representatives in their safe gerrymandered districts are going to wake up and say, 'You know what, I like what this socialist Jew is doing?" Bee says. According to the supporters, though, Sanders would fare better and force Congress into compliance. 
"Are you literally saying that the difference between Obama and Bernie Sanders is that the people of America are going to continue to be motivated within the political process and they're going to keep putting pressure on our elected leaders to make change?" Bee posits. When the focus group responds with raucous agreement, Bee spoils the mood. "Have you met people?" 
Still, as she had hoped to do at the beginning of the segment, Bee did find some optimism in herself and the Sanders movement — even if the goals aren't always realistic. "One thing I do know," she said. "I respect these people's unshakable willingness to dream big."
Check out the segment from Full Frontal below. 
Read more: Samantha Bee Explains Why Bernie Sanders Supporters Are Wrong About Superdelegates