Daisy Ridley of 'Star Wars' Has a Powerful Message About Self-Esteem and Social Media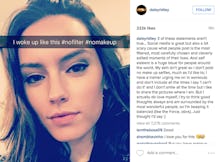 For all those perfectly coiffed, makeup-caked, airbrushed social media posts by people who profess to have just woken up, Star Wars' leading lady Daisy Ridley has a response. Ridley used Instagram on Monday night to send out a powerful message about social media, self-esteem and how the two relate to each other. "I woke up like this #NoFilter #NoMakeup," the star wrote across a photo of herself, which clearly featured a filter, makeup and someone who looked very awake. 
Read more: Daisy Ridley Has a Must-Read Message for the Troll Who Body Shamed Her on Instagram
Her comment for the photo, however, told a very different story: "Three of these statements aren't true... Social media is great but also a bit scary 'cause what people post is the most filtered, most carefully chosen and cleverly edited moments of their lives," Ridley wrote. "And self esteem is a huge issue for people around the world."
The images we share of ourselves on social media are highly curated, she argued, which means that proclamations of authenticity are never really true — even the selection of the picture itself is its own kind of self-censorship. She continued,
My skin isn't great so I don't post no make up selfies, much as I'd like to; I have a trainer urging me on in workouts and don't include all the times I say, "I can't do it," and I don't smile all the time but I like to share the pictures where I am. But I actually do love myself, I try to think good thoughts always and am surrounded by the most wonderful people, so I'm keeping it balanced (like the Force, obvs). Just thought I'd say :)
Ridley has a history of using the forces of social media for good. On March 9, she used Instagram to respond to a meme which body-shamed her for being too thin. 
"I'm a normal girl thrust into extraordinary circumstances, just like Rey," Ridley shared. "I will not apologize for how I look, what I say and how I live my life 'cause what's happening inside is much more important anyway and I am striving to be the best version of myself, even if I stumble along the way."