Only 2 People Showed Up to This Anti-Islam Rally Outside the Georgia State Capitol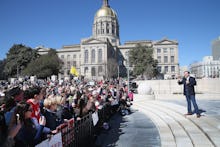 An anti-Islam rally in Georgia made the three-person anti-Beyoncé protest at the NFL's New York City headquarters in February look packed by comparison. 
Podcaster James Stachowiak, founder of Freedom Fighter Radio, called for hundreds to congregate outside of the Georgia State Capitol in Atlanta Monday for an anti-Islam rally. But only one person joined him — controversial pastor Terry Jones, a local Fox affiliate reported. Jones is best known for burning a Koran in 2012 to protest the imprisonment of a Christian pastor in Iran. He has planned several other attempts to publicly burn the holy book. 
Stachowiak told the crowd — well, just Jones — that he planned the protest to "take care of America's needs" because "we have a plight in our cities." 
Jones contributed to the spectacle by ripping pages out of the Koran. "This book promotes violence," he said. "It promotes racism. It promotes oppression, and that is why we destroy it, because it deserves to be destroyed." 
But the response to the protest upstaged the original event. Media asked the pair questions while counter-protesters challenged their anti-Islam views. Capitol police officers stood nearby to make sure the two men "did not get out of hand."
Stachowiak held two firearms at the "open-carry" protest, though he clarified he was "not calling for the death of Muslims." 
"I guarantee you there'll be people calling for my death and Terry's death because of our actions," Stachowiak said to the local Fox affiliate. "I'm [going to] protect myself against attacks."
This protest comes two weeks after another controversial pastor protested outside of an empty Phoenix mosque, where he said he hoped future president Donald Trump would turn the building into a 7-11. 
h/t Fox 5 Atlanta