Read Tupac Shakur's High School Love Letter That's on Sale by Its Recipient for $35,000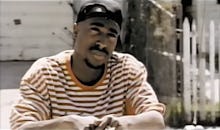 The earliest known letter penned by the admittedly adorable high school-aged Tupac Shakur has gone on sale by the note's recipient, who is asking for $35,000 on Moments in Time. The recipient met Tupac in drama classes he first moved to California, and bonded over being outsiders — Tupac, the only black student in drama, and the unnamed love interest, a self-proclaimed outcast. 
But after Tupac dropped out of school and the two lost contact, the love letter's recipient only heard from him again when he was featured in a verse on a Digital Underground track on the radio, according to a message she wrote accompanying the letter. 
"Another thing that made him stand out was that in drama he was good," she wrote. "When Tupac's turn came, suddenly you understood what we were reading. It was like magically, all the antiquated and complicated language of Shakespeare made sense. He took something as difficult as Shakespeare and gave it a contemporary voice."
Tupac was just as admiring in his letter, referring to his former high school flame as "Beethoven" for her love of the piano. "[I] want u 2 know that u can tell me anything if u ever need a shoulder 2 cry on, u can on mine," he wrote. "As u will soon find out, [I] do not spare words, [I] say what I feel. So if anything [I] say scares u, please don't panic because [I] tend 2 get over emotional."
"I never really cared for the music he recorded," the woman wrote. "I knew the kid who made me understand Shakespeare and who didn't care that he dressed different or wore his hair different. I knew the kid who loved Prince, and candles and had a broken heart. And the kid who drew birds flying upside down on the notes that he passed in school."
Read more: Who Killed Tupac Shakur? 4 Theories Including the Latest and Most Unexpected Claim