Samantha Bee Tears Apart Tennessee Anti-Trans Bathroom Lawmaker Jeremy Durham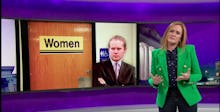 The discriminatory anti-trans bills sweeping several states have not gone unnoticed by Samantha Bee. "Unless you've been living under a rock known as Cis Privilege, you know that so-called 'bathroom bills' prohibiting trans people from using bathrooms according to their gender have been popping up across the country," Bee says on her show, Full Frontal. It's all the more absurd, as she notes, because the assumption that a trans person would assault someone in a bathroom has no statistical basis — literally, no trans person has been charged with assault in a bathroom.  
As a result, the Full Frontal host set her sights on Tennessee and its anti-trans bathroom laws. Specifically, she dug into one of its leading figures in state Rep. Jeremy Durham, who is the crux of the state's anti-trans plans. "Just one problem: one of the bill's key sponsors is more of an existing threat," she says. 
Durham has been exiled from the House offices because of the claims against him of sexual harassment of several female employees. In fact, having him there was deemed as a "continuing risk to unsuspecting women" by state Attorney General Herbert Slatery. 
"Tennessee's self-appointed ladies room bouncer has been deemed such a risk to women that he needs a whole separate building to protect female colleagues from him," Bee says. "But he's still a champion of protecting children from sexual predators, right?" 
Well, not quite. Durham was also influential in minimizing the sentence of a pastor who had child pornography, and why? "Because sexual predators stick together," Bee says. "You know what they say: Bros before little-people-who-can't-stick-up-for-themselves?"
The video is titled "The Worst Person in Tennessee," and based on the evidence Bee provides, it's hard to argue with it. Check out the full bit on Durham below. 
Read more: Samantha Bee Shows How Strict the NRA's Rules Are — For Everything but Guns