Watch These Bulldozers in China Smash the Sh*t Out of Each Other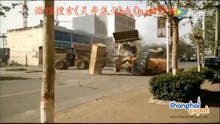 You haven't seen real industrial competition until you've seen heavy machinery dueling it out in the streets. 
A YouTube video shows several big-ass bulldozers ramming into each other in the streets of northern China. The battle left at least two of the heavy machines flipped over, the Associated Press reported. 
Bystander cars continued on their path amid the clouds of smoke and banging blades. You can even see one of the heavy metal operators get knocked out of his machine, scrambling into another. 
Why did this happen in the first place?
The machine-off was a heavy-metal muscle flex. It was the result of a rivalry between two companies competing for business, according to a local government spokesman in Hebei province's Xintang county, the AP reported. 
According to the South China Morning Post, growth in the construction industry in China is projected to "reach historical lows in the short term." The AP reported that the stagnation in China's construction sector has lead to "waves of layoffs." 
These workers are quite literally leaving their competition in the dust.