Scott Disick Sent Kourtney Kardashian a Very Thirsty Happy Birthday Message on Instagram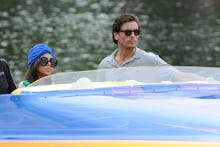 No matter how dead your last relationship might be, you probably still get the requisite annual happy birthday text from your ex. Perhaps they're doing it out of habit, or out of a sense of obligation. Maybe it's just their low-key way of saying, "Hello. I remember that we once had sex regularly, we should do that again." Either way, the happy birthday ex text always leaves the recipient wondering whether there's a hidden meaning behind it. 
It's probably even more confusing if you're Kourtney Kardashian and your ex is Scott Disick, in which case you won't get this message via text. Instead, you'll get it in the form of a throwback Instagram post of you two making out.
Like this:
Disick, whose Instagram handle is @letthelordbewithyou, wrote in the post's caption:
Happy birthday @kourtneykardash everyone who knows you loves you so much!
It makes sense that the ex-couple's birthday exchange might be a little more heartfelt than the standard emotionally puzzling "HBD" ex-text. They have three kids together, so they kind of have to hang out every so often for the rest of their lives. Might as well dig up old photos of past makeout sessions and post them to social media, I guess.
Meanwhile, Justin Bieber — who is both A) rumored to be romantically entangled with Kourtney Kardashian and B) basically a miniature version of Scott Disick himself — remained silent on the topic of Kourtney's birthday. Perhaps he said it with this GIF instead.
h/t People