10 Houston Flooding Photos That Capture the Reality of the Devastation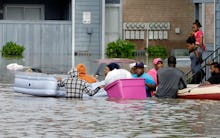 David J. Phillip/AP
Houston is currently experiencing the worst flooding since 2001's Tropical Storm Allison, according to one official, CNN reported. As of Monday afternoon, a Harris County judge estimated that about 240 billion gallons of rainwater has fallen across the area. As of Tuesday morning, five people died from the flash flooding, with at least 1,200 people rescued from high water and over 1,000 homes flooded.
The massive flooding has caused nine counties to be in a state of emergency, according to the Weather Channel. 
The heavy rains and thunderstorms are expected to scatter but continue into Wednesday, with drier weather to come by Friday, according to the Weather Channel. The deadly flooding is most likely caused by jet-stream level winds flowing north-to-south rather than west-to-east, which caused the rainfall system to get trapped by the Rockies. 
Harris County alone is seeing over $5 billion in property damages, CNN reported. The floods are causing houses to be evacuated, streets and cars to be submerged and electricity to go in and out.