Michigan Governor Just Promised to Take a 30-Day Flint Water Challenge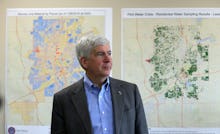 In an attempt to prove that the water in Flint, Michigan, is safe to drink. Gov. Rick Snyder has decided to take the "Flint Water Challenge" and drink tap water from the city for at least a month. 
"I completely understand why some Flint residents are hesitant to drink the water and I am hopeful I can alleviate some of the skepticism and mistrust by putting words to action," the Michigan governor said in a statement. "Flint residents made it clear that they would like to see me personally drink the water, so today I am fulfilling that request. And I will continue drinking Flint water at work and at home for at least 30 days."
Not everyone is pleased with the governor's attempt to alleviate concerns. "His whole family has to drink it," 73-year-old Elizabeth Taylor, a resident of the city, told the Detroit Free Press. "They have to cook with it and bathe with it. He thinks we just trust him because he says so?" 
Others also expressed a similar sentiment on social media, deeming it little more than a ploy for good press.
In 2014, the city of Flint made the decision to switch their primary water source and stop buying water from Detroit. The city began drawing water from the Flint River, in order to cut costs, which would later prove to be a huge mistake. 
Last Tuesday, researchers announced that the water quality in Flint has improved, but is still generally unsafe to drink without a filter (Snyder will be filtering his water). "We gotta get more water flowing through the system," Virginia Tech professor Marc Edwards said at a news conference, according to WDIV. "From every single scientific perspective, the more water a resident uses, the better the water will be."
"Flint residents should have no more concern about taking a bath or shower," Edwards also mentioned during the news conference, WDIV reports. "Flint's water is just as safe, and probably safer, than any other city in the United States."
However, the impact that drinking lead-contaminated water has long-term and far-reaching consequences: most notably, the detrimental effects on the development of children.
"[Somewhere] down the line, I can see a scenario where these same politicians are telling a 17-year-old high school dropout to pull himself up by his bootstraps, while not acknowledging that he was poisoned when he was seven," Tracey Ross, associate director of the Poverty to Prosperity Program at the Center for American Progress, said in a February interview. "We need to talk about what these poisoned kids need today, and then what they need down the road. And we need to get beyond the need for new water pipes and filters, which is rightly dominating the conversation right now, and making sure schools are prepared for what's coming, that we're anticipating needs five or ten years from now." 
So while the governor's 30-day "Flint Water Challenge" might help alleviate the fears of some right now, it doesn't leave much hope for others later down the line. 
Read more: A 10-Year-Old Just Drew the Only Cartoon About Flint That Anybody Needs to See