Is the Apple Car Real? What We Know About the Company's Plans for a Tesla Competitor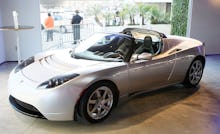 Apple has always been known as a leader in innovation, so when electric and self-driving cars like Elon Musk's luxury Tesla models hit the marketplace, it seemed that it was only a matter of time before the company would throw its hat into the ring too.
Though Apple hasn't made any official announcements about plans for its own car, on Tuesday, Electrek reported that the tech giant has hired former Tesla Vice President of Vehicle Engineering and former chief engineer at Aston Martin, Chris Porritt, to join forces for a "special project." That project could likely be "Project Titan," what tech insiders believe to be the alias for Apple's electric car initiative. 
Just last week, Motor Trend asked students and faculty from the ArtCenter College of Design to imagine what an Apple Car could look like if (and when) the dreams of techies and car enthusiasts alike become a reality. The mockups will be featured in the magazine's June issue.
Read more: Finally, There's a Tesla That's Priced Like Normal Cars
Still, Apple continues to leave little more than a trail of breadcrumbs for Apple geeks. Rumors gained traction in September when the Guardian obtained documents showing that Apple executives had a meeting with officials from the California Department of Motor Vehicles' autonomous vehicles program. After the outlet leaked word of the meeting, it became clear Apple may have a hard time keeping mum about any plans for self-driving car since all car manufacturers must provide details on any vehicle they want to test.
The company added fuel to the fire more recently when it opened new facilities in California, all bearing the code names of figures from Greek mythology — a nod, some speculated, to Project Titan. 
As Apple enthusiasts continue to piece together the clues, CEO Tim Cook will likely continue to hem and haw. Back in September, when asked about a possible Apple car, Cook said on The Late Show With Stephen Colbert, "We look at a number of things along the way, and we decide to really put our energies in a few of them."
But until we know for sure what to expect, check out Motor Trend's mockups: