Taylor Swift's Coachella Photo for Calvin Harris Is Totally Natural, Candid, Not Staged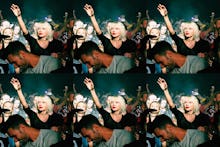 Taylor Swift, recording artist and choker enthusiast, was truly enchanted by her boyfriend's performance at Coachella.
The proof is in the easy, breezy, beautiful Instagram post she shared on Monday and subsequently deleted under *mysterious* circumstances:
Taylor has been known to make time in her packed wedding-attending schedule to support boyfriend Calvin Harris in his various DJing endeavors. And her social media presence seems to suggest that the pair is very much in love. It's super #relationshipgoals indeed, as various media outlets have pointed out. 
But anyway: this Coachella pic. Did Taylor's social media team recently put out a casting call for "a fun group of 20-somethings to pose around pop superstar Taylor Swift while we stage an image that looks like a still taken from a 1990s romantic comedy in which the camera zooms in on Taylor's character watching the object of her affection perform live onstage for a crowd of thousands"? 
Obviously not! 
Everything about this pic is all very candid. Very natch. Very just chillin' at Coachella while my boyfriend DJs and an unknown third party hovers a few feet in front of me with a professional-grade camera. Either way, we'll likely never know the true story behind it, as Swift deleted the image without explanation on Wednesday.
Check out Taylor's other Coachella Calvin posts, in which Rihanna sings "We Found Love" and the group of extras friends dances along to the beat, below.
Meanwhile, the location of Taylor's cats during Coachella remains unknown.
Update Apr. 20, 2016 1:48 p.m. This story has been updated. 
h/t E! Online