Rainbow Nooses Display at Tennessee University Investigated as Possible "Hate Symbolism"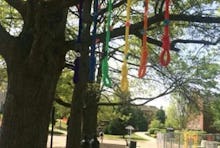 Update: April 19, 2016, 2:26 p.m. Eastern: University spokesman Bill Persinger has confirmed that the display was a class art project that had no intention towards racial or social issues, including those LGBTQ-related as some suspected, Newsweek reported. No instructor had reviewed the project, but the unidentified student behind it is "apologetic for the issues it caused," according to a Facebook statement by the school. In the statement, APSU president Alisa White said, "This is a lesson for everyone about sensitivity and respect for all people and how inclusive and understanding we need to be as a campus community."
Story follows:
At Austin Peay State University in Clarksville, Tennessee, officials are investigating possible "hate symbolism" after a tree was found with a rainbow of six colored nooses on Monday, according to the Washington Post. The controversial nooses were hung near the Trahern fine arts building and removed by officers for their "potential impact to the campus" and after several complaints.
"This incident is deeply disturbing and is hurtful to our University community," Alisa White, university president, said in a statement on Facebook. "Regardless of the intent, the display has no place on our campus. I am saddened and I am sorry for the hurt and offense this has caused, and want our students, faculty and staff to know that it will not be tolerated."
An unidentified student said that the nooses were actually an art project for an introductory sculpture class, and was approved by the instructor, according to the Leaf-Chronicle. Some say the nooses in the rainbow fashion were supposed to represent suicide rates in the LGBTQ community, according to the Washington Post. 
The display is currently circulating around the school's social media network. Several APSU students continued to call the use of nooses "inappropriate" and of "poor taste" on the school's Facebook statement. "So this is at #APSU," the school's NAACP chapter captioned an Instagram post of the display. 
Several universities have had past experiences with nooses, such as in 2015 at Duke University, where a yellow noose hung by the student union, according to the Washington Post. The year before that, a former University of Mississippi student was arrested for hanging a noose on a statue of a civil rights activist, USA Today reported. 
April 19, 2016, 2:26 p.m. Eastern: This story has been updated.
Read more: Racist Messages on Library Computers Prompt Walkout at a California High School