4/20-Inspired Must-See Looks From the 2016 US Cannabis Cup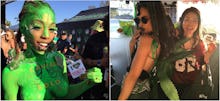 The High Times Cannabis Cup is the epitome of stoner celebrations. While the main event was previously held in Denver (an awards ceremony and concert were still held in Denver on the 19), the "Cannabis Cup and Carnival," took place April 15 to 17 in San Bernardino, California. There are additional cannabis cups to come in other legal locations, such as Michigan and Portland.
Cannabis users and vendors from all over the world flocked to the three-day celebration, sampling the goods and mingling with fellow pot enthusiasts. With a ferris wheel, a medicating area, celebrity sightings and concerts, the Cannabis Cup is like the stoner baby of Election Day and Coachella.
Read more: History and Origins of 4/20 and How the Marijuana Culture Day Came About
Leading up to today, 4/20, the Cannabis Cup's panel of judges, including medical patients, judged various strains and varieties of cannabis flowers (buds), concentrates, hash, edibles and topicals to find out who reigns supreme in the cannabis industry. (Read a complete list of winners at High Times.)
Being such a wonderful place to express yourself, we kept our eyes peeled for our favorite looks posted on social media from the event. Check them out below.
Of course fringe was featured. This 420-enthusiast paired sheer summer white with bright pinks and reds.
To match the impending cannabis in hand, cannabis celebrators wore jewelry to match.
Is that a bong or a hair accessory? Why choose one?
I Blaze in My Calvins.
Walking on stilts is a bold way to show how high you truly are.
Why wear clothes when you can paint yourself the color of weed?
They're paired with weed print, of course.
They keep the sun out of your eyes when you can't open them.
With this matching two-piece ensemble, the weed will be the last green on anyone's mind. 
From bong bubbles to a cannabis cup, the body paint at the Cannabis Cup proves weed does aid in creativity. 
The grey tones work perfectly with the bright magenta hair and accessories.
It also pairs with hula hoops.