Frank Ocean Was Photographed "Showing Off" His New Album at Coachella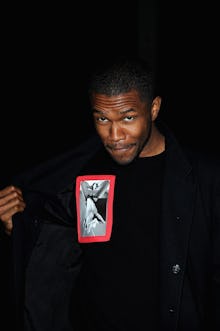 Frank Ocean made a rare public appearance in the midst of the star-studded Coachella music festival over the weekend, proving he is, in fact, still alive and could be capable of producing new music. 
Unfortunately, that new music wasn't presented in a surprise performance during another artist's set. Nor was it shown to Ocean's friends and most loyal fans in a more private setting. Instead, a photo of the R&B crooner in the California desert valley surfaced Tuesday morning (immediately going viral) showing Ocean holding what he's been working on this whole time: absolutely nothing.
Sure, we've heard some rumblings about Ocean listening parties that had audio leaks online, though none of those could be confirmed as his forthcoming album. His producer Malay has actually confirmed Ocean is putting together a new project, despite the entertainer missing his promised July deadline, and is exploring "different vibes" — a likely story for someone taking his sweet time on a sophomore studio album. 
Some noted the reason Ocean has yet to release his next album could be because of the company he keeps:
To be frank, the exact mysteriousness and elusiveness behind Ocean's identity and music his fans once found enticing is now the exact thing setting them off. And if Ocean's new album doesn't come crashing ashore soon, his audiences might be about to jump ship:
Read more: As Fans Await Frank Ocean's New Album, Here's What Made the R&B Singer a Viral Success