Poet Reveals the "10 Things You Should Know About Being an Asian From the South"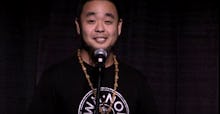 Having grown up in the U.S. South, Japanese slam poet George Yamazawa has a distinct outlook on how to deal with racial stereotypes. Detailing these events during a Button Poetry reading in Minnesota, Yamazawa goes through 10 things Asian people from the South have to deal with. Unsurprisingly, they critique the disunity that occurs when an Asian kid tries to shape his identity in a world that, as he puts it, is "black and white." 
1.
2. 
3.
4. 
5. 
6. 
7.
8. 
9. 
10. 
Check out the full performance from Yamazawa below. 
Read more: Slam Poet George Masao Yamazawa Nails What It's Like to Be a Child of Immigrants