New York Primary Predictions 2016: Here's Who's Expected to Win for Democrats and GOP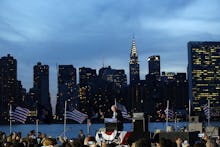 Tuesday is a big day for 2016's presidential candidates, with voters heading to the polls for the crucial New York primary.
While the party frontrunners — Democrat Hillary Clinton and Republican Donald Trump — have put substantial distance between themselves and their opponents, said opponents are hoping to close those gaps.
Every single delegate counts, so the late-voting state has taken on unusual significance. 
With the contenders scrambling for New Yorkers' hard-to-get approval, who will win?
Read more: Hillary Clinton Bests Bernie Sanders in New York Debate
Of the five remaining candidates in the running, three can claim ties to the state: Trump hails from Queens and owns real estate all over New York City. Sen. Bernie Sanders of Vermont also comes from one of the city's five boroughs — Brooklyn — but so far, hasn't overtaken Democratic frontrunner and former New York Sen. Hillary Clinton in the race for the party's nomination. 
According to RealClearPolitics, Clinton has at 12-point lead on Sanders in New York, with an average of 53% voter support to his 41%. Both have campaigned actively in the Big Apple — with Clinton going after the Beyoncé vote recently by naming hot sauce as the constant passenger in her purse.
For his part, though, Sanders doesn't see winning the state as his campaign's end-all-be-all — he's just looking to add some of the state party's 247 pledged delegates to his corral and sustain the momentum he's built over the last stretch of state primaries.
The Republican frontrunner, however, intends to best his main opponent, Sen. Ted Cruz of Texas, and to take home all 95 delegates at stake in the state's winner-take-most Republican primary. According to RealClearPolitics, Trump's currently up by 30 percentage points, with 53% support to Ohio Gov. John Kasich's 23% and Cruz's 18%. The latter's abhorrence of "New York values" hasn't endeared him to the state or its biggest city — he was roundly rebuffed at a Bronx campaign stop earlier in April. 
Kasich has gained some ground lately, but as Bloomberg reported, it looks likely that the Empire State will go to the party frontrunners —  New York City-based predictions project PredictWise, which Bloomberg noted has accurately forecasted "55 of 65 nominating contests it's covered so far this year," gave Trump a 98% shot at the win and Clinton, 91%. 
We won't know for sure until after polls close at 9 p.m. Eastern and the votes are counted. Check back with Mic for a full rundown of the evening.