Chicago Cubs' Jason Heyward Allegedly Called Racial Slur by Fans During St. Louis Game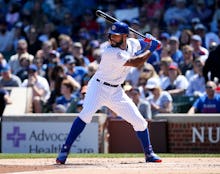 To say that Jason Heyward faced an ugly reception in St. Louis Monday would be an understatement. 
The 26-year-old outfielder returned to Busch Stadium to play against his former team, the Cardinals, for the first time since signing an eight-year, $184 million contract with the Chicago Cubs. Cardinals fans booed him, which is par for the course in sports. But according to the New York Daily News, some in the stands went far beyond the usual taunts. 
ESPN, which was broadcasting the game, captured audio of spectators calling Heyward a "nigger," according to several listeners who complained on Twitter:
ESPN, which has begun reviewing the audio from last night's game, claims it has yet to find anything suspect.
Heyward appears to have missed hearing the slurs entirely. But he said in an interview that heckling doesn't faze him. "If somebody boos me here, that means they were not happy to see me leave," he told ESPN. "I'm kind of glad that people weren't happy to see me leave. The fans should enjoy it, and we're going to enjoy it."
St. Louis and the surrounding area has been a site of simmering racial tensions since white police officer Darren Wilson shot and killed unarmed black teenager Michael Brown in nearby Ferguson in 2014. The incident sparked days of unrest and ignited a nationwide protest movement that crystallized, in the popular consciousness, under the name "Black Lives Matter."