7 Male Celebrity Feminists Adding Their Voices in Support of Equality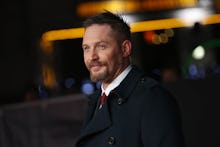 2015 was an important year for women in film, as the industry put forth wide-ranging roles for complex female characters, from the likes of Room and Trainwreck to Mad Max: Fury Road and Star Wars: The Force Awakens. Yet, conversely, there's plenty of work to do: Female leads are still few and far between, and female directors are barely represented. 
However, while incremental progress is being made, male celebrities play an important role in speeding up the process. Some have already done so, having publicly supported feminism — with some also incorporating feminist undertones into their work.
Read more: 5 Times Women Taught the World About Feminism on Twitter
Mark Ruffalo: He might not transform into an angry, gargantuan green humanoid on the subject of feminism, but the actor is an ardent supporter nonetheless. He has spoken out to support women's reproductive rights with the help of the Center for Reproductive Rights, and is similarly shocked that there are so few female directors in Hollywood.
"I love women directors," the actor said, in an interview with the Huffington Post. "I'm a feminist, by the way ... I didn't know there were any [non-feminists] left in the world. I thought we pretty much came to the 50-50, like [feminism]-is-cool conclusion." Way to go, Mark. 
Aziz Ansari: The comedian has been busy since the conclusion of Parks and Recreation, having co-created and starred in his own Netflix comedy series, Master of None. Furthermore, Ansari published a book on modern relationships — appropriately titled Modern Romance — last year, and shared the feminist insights he provided to the book.  
"Some people wrote: 'Er, Aziz's girlfriend turned him into a feminist,' and that's not true, I've been a feminist my whole life," Ansari said, in an interview with the Guardian. "There wasn't a period where I was really against women and then started dating one and was like, 'You know what? Men and women are equal.' That definitely didn't happen." What prompted him to talk about it? "It's interesting, you see interviews with female celebrities and they're very scared of that word. It's such an easy concept to get behind and a big part of it is that people don't really know what it's essentially promoting."
When posed a similar question in an interview with David Letterman, he had a similarly candid response. (Spoiler: He still supports feminism.)
Daniel Radcliffe: His former Harry Potter co-star gets a lot of the spotlight for her outreach for women's equality, and deservedly so, but Radcliffe hasn't been shy about announcing his feminist views, either. During an interview with Nylon, the actor admitted that he is pretty shocked that we still need to have campaigns, like Emma Watson's, for gender equality. 
"I think it's fantastic that [Watson]'s bringing attention to it and adding to the conversation," he said. "I also find it bemusing, honestly, maybe because I have cool parents with a very equal marriage and have had good role models all my life, but I thought this was done." 
Chris Pratt: Pratt bulked up for his lead role in Marvel's Guardians of the Galaxy, and certainly took pride in his new, chiseled physique. It's certainly a self-esteem booster, but Pratt admitted he had purposefully objectified himself ahead of the release, and that overall, men should be objectified more in Hollywood. 
"I think it's okay. I don't feel appalled by it," Pratt said, during an interview with BBC Radio 4's Front Row. "I mean, I think it's appalling that for a long time only women were objectified. But I think if we want to really advocate for equality, it's important to not objectify women less, but just objectify men as often as we objectify women." 
In that light, he also requested a red carpet trope typically reserved for women: He demanded to be asked "who" he is wearing. Ever the comedian, he had a perfect response. 
Aaron Taylor-Johnson: The Godzilla and Avengers: Age of Ultron actor has worked closely alongside Elizabeth Olsen for both, and both assumed hero roles in the Marvel franchise as Quicksilver and Scarlet Witch. However, the argument is certainly valid that Olsen's character should be viewed as a hero in Godzilla as well — and anybody who disagrees will face the shade of Taylor-Johnson. 
During an interview with HDmagazine, alongside Olsen, he challenged the question posed by the interviewer that insinuated Olsen's character — who is a nurse in the film — is not a hero. Rather, they can come in many shapes and forms. In the process, he threw some shade, flipping the interview off while scratching his nose, and smirking from the subtle slight. 
Hayao Miyazaki: While Disney films might statistically feature gender imbalance in their dialogue, Miyazaki's compelling animated films have consistently featured female leads. That diverse list includes the likes of Princess Mononoke, Howl's Moving Castle and The Tale of the Princess Kaguya.  
"Many of my movies have strong female leads — brave, self-sufficient girls that don't think twice about fighting for what they believe in with all their heart," Miyazaki said. "They'll need a friend, or a supporter, but never a savior. Any woman is just as capable of being a hero as any man."
Tom Hardy: He actually has a pretty extensive background supporting feminism in Hollywood, but his most well-known shutdown was actually quite succinct. Talking about his role in Mad Max: Fury Road, Hardy was asked by Toronto Star movie critic Peter Howell if he ever wondered why so many women were in the script. 
Hardy was candid in his response. 
Just like the concept of whether men and women should have equal rights — hopefully, it's a similarly brief answer. Yes.