Women Are Talking About Their Pubic Hair — And That's a Good Thing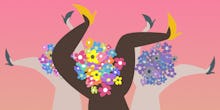 The last shot of Girls season five showed seminal character Jessa nude, lying post-coitus with her boyfriend on the floor. As the camera slowly panned down, viewers were shown Jessa's pubic hair, which was shaved into a strip.
They also probably saw, weeks earlier, when Hannah (played by Lena Dunham) exposed her crotch to her boss and shortly thereafter said, "It also helped that my bush was at full capacity right now."
During Broad City's second season in 2015, Ilana uses a dressing room mirror to gaze at her vagina, and the blur that covers it is not skin-toned, but a muddy mix of black. 
For Ilana Glazer, who plays Ilana on the show, and Abbi Jacobson, the other co-creator, this was an obvious decision. "The pixels, they wanted them to be Ilana's skin tone," Jacobson told Jimmy Kimmel. "I got a baby vagina? I'm an adult. I have pubes!" Glazer chimed in.
All of these instances involve young women in their 20s, and are indicative of social change. Women are talking about their pubic hair, and the many totally acceptable options for what to do with it. In doing so, they're bringing about this idea that having it or not having it shouldn't really be that big of a deal at all. 
Compare Girls and Broad City to Sex and the City, a show where Carrie Bradshaw regularly talked about her bikini waxes — and we even got to see her get one. Sex and the City was on the air from 1998 to 2004 and now, just 12 years later, the idea of Girls or Broad City characters shelling out cold hard cash to get their pubes ripped out seems against character.
As we clearly enter into a new age of pubic hair acceptance (which could even be considered pubic hair proudness at this point), of course it's social media where the powerful conversations are taking place.
#Instapubes: Seeing women with pubic hair is important because it sparks the conversation that women now have options, and it helps to normalize pubic hair in general. It also, wonderfully, helps get rid of the myth that women are concerned about what men think about it. To see how far we've come in terms of what we're able to view on a regular basis, look no further than Instagram, this generation's favorite platform for launching movements that address body expectations (see: #FreeTheNipple).
Pubic hair on Instagram is an issue that took off back in 2013, when artist and photographer Petra Collins posted a picture of a girl in her underwear, only to have Instagram take it down. On Twitter, she reposted it with a message about censoring the natural female body: 
In this instance, pubic hair was political, as it was in 2015 when an image from the online magazine Sticks and Stones, of two girls in bikinis with visible pubic hair, was removed. 
It sparked a conversation on social media about what was actually taboo, what really wasn't and why. 
"Unfortunately Instagram has ruled out natural hair that appears on all bodies of women that don't trim their bikini lines," the mag's director, Ainsley Hutchence, told Mic at the time. "Clearly this is absolutely sexist. Instagram believes that women should wax or get off their platform."
Read more: This Photo Was Banned By Instagram Thanks to Society's Sexist Double Standards
Shortly thereafter, Instagram actually apologized for removing the image, telling Mic at the time that while they try to find a balance "between allowing people to express themselves creatively and having policies in place to maintain a comfortable experience for our global and culturally diverse community," they acknowledge they "don't always get it right." Since that instance, Instagram has become far more keen, opening the floodgates for women, artists and photographers to show off the female form — hair down below and all.
One artist who has taken advantage of this is Ashley Armitage, who runs the Instagram account @ladyist. While plenty of her portraits revolve around girls showing off their armpits, there are also a few shots of girls in their underwear with pubic hair poking out around the sides. 
"Right now it seems like there's a group of girls on social media fighting for body hair acceptance, and not just fighting for body hair, but fighting for our right to choose," Armitage said via email. "It's really a fight about allowing a girl the agency of her choice. You wanna shave? Great! You wanna grow it out? Great! Any way you like it, it's your choice."
Armitage thinks Instagram has been a particularly good platform for this discussion because of the kinds of people it attracts.
"One time, I posted a photo of my friend in a bikini, with pubic hair coming out, and I got such a huge mixed reaction," she said. "My favorites, though, were a few people who told me that when they first saw the photo they thought it was gross, but then after they saw it again they started to get used to it, and then became totally fine with it and saw it as natural." 
This is why seeing images like this are important.
"By repeatedly representing people with pubic and other body hair, we're showing that there are other options," Armitage said. "When I was a young teenager hitting puberty, I didn't know I had a choice. I thought that once you started growing hair, you got rid of it, and that's just how it would always be. I think everyone — men, women, girls and boys — need to be shown more than just one type of body." 
Instagram, in this case, is a tool for change. 
Why now? Certainly Instagram's not the only catalyst for this conversation. It also has to do with how informed this generation is. With things like the internet at our fingertips, we've become skeptical of accepting what we're told is "OK" or "attractive."
We are also living in a day and age when feminist conversations in the United States are more accessible than ever before, and to some, shaving or augmenting your body for a partner or to adhere to society's norms just doesn't make sense. (Because whose body is it, really?) It should also be noted that in some cultures pubic hair is actually seen as aspirational. 
Another woman who's been quite vocal about making choices in regard to her own body is Molly Soda. In April, she penned an essay for Nylon, titled "This Web Artist Is Ditching the Razor and Fighting the Patriarchy," that elaborated on why she personally chose to forego shaving. For her, it was just a personal decision, not wrapped up in any political agenda other than she wanted to shave some of her body and didn't want to shave others.
"Body hair doesn't make you any less feminine or any less attractive," she wrote. "Choosing to shave doesn't mean that you're insecure. The strongest statement you can make is to take control of your body and present yourself in whatever way that makes you feel comfortable."  
Industries take note: This is a powerful conversation not only for society as a whole, but for businesses. In 2014, American Apparel shocked customers with mannequins featuring merkins, which are basically wigs for your pubic area. Recently, even salons that focus on waxing have been affected by this conversation. 
"At the beginning, we got so many requests for eco-friendly Brazilian services that we added it to our menu," Tara Marie Hoxha, the manager of Savor Spa in New York City, said in an email. "Over time, our guests who had once requested Brazilian waxes began booking bikini waxes instead, and eventually they stopped waxing at all in favor of natural shaving methods or, for some, laser treatment." 
Now, here are even products aimed specifically at people who want to take care of their own pubic hair, like Fur oil, which debuted in late 2015. As expected, it caused a bit of a media firestorm, with headlines like "There's Now a Beard Cream for Pubic Hair Because Pubes Are All the Rage in 2015, Haven't You Heard?" and "Pubic Hair Grooming. Yes, It's a Thing." 
"What I question is that people do things because it's an expectation," Fur CEO Laura Schubert said in a phone interview. "So we think it's a more modern perspective that people decide what they want to do. Maybe it's full or maybe it changes on how you feel. It's less about this trendy 'back in' and it's becoming more of a conversation." 
Clearly though, people were shocked at the idea that, just like men want to take care of their beards, women (and some men) might also want to take care of their hair "down there." 
"They've done hair removal since Roman and Egyptian times," Schubert said. "It's our most personal area that you groom and you don't talk about it. It is very private and it's something that we deal with because we want to create choices." 
From pop culture to Instagram to now an industry, it's women themselves who are shrewdly using their platforms to proudly document pubic hair, and normalize it. They are making the concerted effort to not only just show it, but show it in such a way that instead of saying, "Look, here it is," it says "Look. I love them, and you should too."