2016 New York Primary Results: Live Updates on the Democratic and Republican Races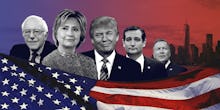 Voters in New York headed to the polls on Tuesday in primaries that may cement Hillary Clinton and Donald Trump's roles as their parties' respective frontrunners.
With Clinton looking to hold off a nationally surging Bernie Sanders following a string of losses to the progressive populist, Empire State Democrats look poised to deliver their former senator a momentum-building victory as the race enters its final stretch.
Meanwhile, Trump hopes that a landslide victory will bring him close winning all of the state's 95 Republican delegates, although the billionaire is likely to fall short of a clean sweep, which would require majority support both statewide and in each of New York's 27 congressional districts.
Read more:
With polls set to close at 9 p.m. Eastern, the Mic team will keep tabs on the night's latest developments below.
10:25 p.m.: Clinton savors her victory.
Appearing before supporters in midtown Manhattan, the former senator reveled in the affirmation of her onetime constituents.
"Today, you proved once and again there's no place like home," Clinton said. "In this campaign, we've won in every region in the country from the North to the South to the East to the West, but this one's personal."
"New Yorkers, you've always had my back and I've always tried to have yours," she continued.
Looking to unite the party ahead of a looming general election battle, Clinton sounded a conciliatory note toward Sanders' supporters.
"To all the people who supported Sen. Sanders: I believe that there is much more that unites us than divides us," she said, citing herself as part of a "progressive tradition" that spanning from Franklin Roosevelt to Barack Obama.
Also evident in Clinton's speech: Relief.
"The race for the Democratic nomination is in the home stretch and victory is in sight," she proclaimed. — Luke Brinker
9:48 p.m.: Clinton wins.
The AP projected victory for the former home-state senator at 9:45 p.m.
9:45 p.m.: More on the Democratic exit polls.
Exit poll results indicate that many of the typical demographic trends in voting for Sanders and Clinton have resurfaced in New York. Sanders led among men 54% to 45%, while Clinton took 57% of women to Sanders' 43%.
As usual, Sanders fared far better with young voters than Clinton, winning voters between 18 and 29 years old 72% to 28%, and besting Clinton among voters between 30 and 44 years old 54% to 46%. Clinton was dominant with the older set, defeating Sanders 57% to 43% among voters between 45 and 64 years old, and handily beating him among voters 65 and older 70% to 30%. The two older age brackets that Clinton won constitute just about 60% of the Democratic electorate that voted.
In terms of race, Sanders did significantly better with whites than Clinton, beating her 54% to 45%. Clinton trounced Sanders among black voters, 71% to 28%. And she also won Latinos, garnering 59% of their votes compared to Sanders' 41%.
When the exit poll stats are broken down by race and gender, Sanders' strongest demographic advantage was with white men, whom he beat Clinton among 60% to 39%. Clinton's starkest margin of victory was among black women — she took 75% of their votes, while Sanders took in a mere 25%. — Zeeshan Aleem
9:40 p.m.: Trump proclaims victory.
Entering the foyer of Trump Tower to the sounds of Frank Sinatra's "New York, New York," a jubilant Trump sounded like a man mounting a comeback.
Ticking off conservative priorities like repealing the Affordable Care Act, ending the Common Core education standards and cracking down on illegal immigration, Trump exuded confidence about his prospects for notching victory.
"We are going to be legitimately so great again, and I just can't wait," he said. "We don't have much of a race anymore. Based on what I'm seeing on television, Sen. Cruz is just about mathematically eliminated" from winning a delegate majority before the convention, Trump added. — Luke Brinker
9:00 p.m.: Trump wins.
The Associated Press projected the billionaire's victory once polls closed at 9 p.m.
8:39 p.m.: Sanders campaign says Clinton needs double-digit win.
Even though Sanders needs a huge victory in New York to stand any chance of remaining competitive in the nomination race, his staff is already attempting to manage expectations in a manner that hints at pessimism.
"They elected her senator here twice. If she comes out of here with a single-digit win, my god it's an embarrassment," Sanders' campaign manager Jeff Weaver said on MSNBC, according the Hill. "Bernie Sanders won Vermont with 86% of the vote."
Clinton was born and raised in Illinois, but New York is her adoptive home — the state where she served as a senator for the better part of a decade and where she worked on the Clinton Foundation after her tenure as secretary of state. — Zeeshan Aleem
7:45 p.m.: Sanders steels for a loss.
Indicating that he's not expecting a victory tonight, Sanders is not in New York, instead holding a campaign rally at Pennsylvania State University and speaking more than an hour before voting in New York had finished.
"We're going to do a lot better than people thought we were," Sanders predicted of Tuesday's balloting.
The Keystone State votes in one week. — Luke Brinker
7:30 p.m.: Exit polls look good for Trump and Clinton.
The primaries are unlikely to deliver any major upsets tonight, if exit polls are any indication.
According to exit poll data compiled by ABC News, Democrats say 52% to 47% that they're more inspired by Clinton than Sanders, while racial and ethnic minorities account for about 40% of the electorate — a good sign for Clinton, who's consistently bested Sanders among minority voters. Regardless of their vote on Tuesday, 70% of Democratic voters said they expected Clinton to emerge as the nominee.
On the GOP side, Trump is poised to benefit from an electorate that's less evangelical and less hard-core conservative than in other states. ABC notes that evangelicals have comprised 58% of GOP voters in primaries to date, while they're only about 25% of the New York GOP electorate — spelling trouble for Ted Cruz, a favorite of many conservative Christians.
A majority of GOP voters said they'd made up their minds more than a month ago, and the Manhattan real estate tycoon Trump won those voters handily.
Trump also faces an electorate strongly supportive of his proposal for a temporary ban on Muslims entering the country, a policy favored by about three-fifths of voters. — Luke Brinker