Elizabeth Warren Hits Out at Ted Cruz in Epic Tweetstorm — "2 Words: Boo Hoo"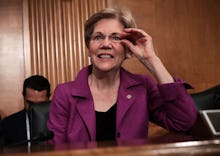 Sen. Elizabeth Warren launched an informal anti-Ted Cruz campaign Tuesday evening, slamming the Republican presidential candidate for an email in which he detailed the sacrifices he's made to run for president.
In the email, Cruz wrote that running for president forced him to neglect his family and spend "precious little time" with his wife and children. Warren wasn't attending his pity party.
Read more: Elizabeth Warren Unloads on "Loser" Donald Trump in Scathing Tweetstorm
"Are you kidding me, @TedCruz? We're supposed to pity you because trying to be the leader of the free world is hard?! 2 words: Boo hoo," she said.
In the language of our times, the Democratic senator from Massachusetts used Cruz's own complaints as a "teachable moment" about working families around the nation.
"Know who gets no family time, @TedCruz? Moms w/ unfair schedules who drop kids at daycare & find their hrs cancelled. @GOP won't help." Warren said. "You chose to run for President, @TedCruz. You chose to make your 'sacrifices.' Working people don't have a choice."
Read the full takedown below:
In March, the senator launched a similar tweetstorm, calling Republican frontrunner Donald Trump a "loser" and impugned him on everything from his wealth to " tear[ing] apart an America that was built on values like decency, community, and concern for our neighbors."