Tess Holliday Just Made an Important Point About Being Pregnant and Plus Size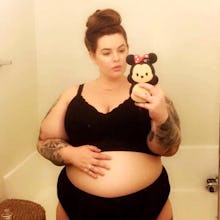 Plus-size model Tess Holliday has an important message for all those who think it's OK to comment on her body during her pregnancy: It's not.
In a Facebook post published Tuesday night, Holliday — who is 8 months pregnant with her second child — assured plus-size women in her position that negative comments from outsiders shouldn't make them second guess the normalcy of their pregnancy or undermine their experience. 
Read more: Aerie's Male Body Positive Campaign Was a Cruel April Fools' "Parody" 
"What I've had to be learn to be OK with (WHICH IS NOT COOL) is the fact that people still think it's OK to comment on my body: 'you don't look pregnant;' 'you must be [having] quadruplets;' 'you are putting your baby at risk' and a slew of other uneducated statements that are very far from my reality," Holliday wrote. 
"I'm part of a small minority that's telling you it's OK to not have a perfect baby bump, or not show at all, to be plus size and have a healthy child and, most importantly, to find a care provider that doesn't shame you about your size," Holliday added. "It's also OK to tell someone to fuck off when they give you unsolicited advice about what's 'best' for you and your baby."
She concluded her message by giving a "shoutout" to Plus Size Mommy Memoirs, an online blog and community for plus-size pregnant women. 
The group reposted Holliday's post along with their own message: "Tess Holliday is GLOWING!" they wrote. "She looks amazing and I'm so thankful she's spreading the message that we ALL deserve to be treated with dignity and respect during pregnancy."