After Big New York Victories, It's Likely to Get Even Better for Trump and Clinton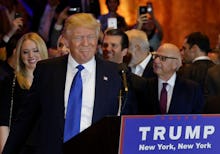 If you can make it in New York, Frank Sinatra famously crooned, you can make it anywhere.
And after their smashing victories in the Empire State's primaries on Tuesday, Republican presidential frontrunner Donald Trump and Democratic counterpart Hillary Clinton are significantly closer to the big prize.
Trump's 35-point landslide, which brought him just short of sweeping New York's 95 GOP delegates, and Clinton's 16-point romp over Bernie Sanders helped both candidates bounce back from a series of recent setbacks at the ballot box. And as the primary season enters the home stretch, it's likely to get even better for the Manhattan real estate developer and the onetime New York senator.
Read more:
The art of the comeback: For Ted Cruz and John Kasich, who are assiduously working to hold Trump below the 1,237 delegates needed to secure the GOP nomination on the first ballot at the party convention in July, the billionaire's expectations-busting victory on Tuesday marks a massive blow.
Heading into Tuesday, Trump needed to win 61% of the remaining delegates up for grabs to reach a delegate majority, compared to 86% for Cruz and 140% for Kasich. Trump's New York victory — which leaves him with at least 845 delegates to Cruz's 559 and Kasich's 147, per RealClearPolitics — means that he now needs to win only 53% of the 734 remaining delegates.
That's a higher share than the 46% of allocated delegates Trump has won so far, but his path to a delegate majority looks substantially easier than it did Tuesday morning — let alone two weeks ago, when Cruz crushed Trump in the Wisconsin primary.
The five primaries on April 26 — when voters head to the polls in Rhode Island, Pennsylvania, Delaware, Maryland and Connecticut — are likely to smooth that path further.
Polls show Trump positioned to win the lion's share of Pennsylvania's 71 delegates, with the RCP average showing him at 45% support to 24% each for Cruz and Kasich. In Maryland, which awards 38 delegates, Trump takes 41% to Kasich's 26% and Cruz's 25%. It's a similar story in Connecticut, where Trump leads with 49% to Kasich's 27% and Cruz's 18%. The Nutmeg State awards 28 delegates.
There's been no public polling in Delaware, which awards 16 delegates, while a February poll showed Trump leading in Rhode Island with 43%, followed by Marco Rubio, who has since exited the race, at 25%.
Looking beyond next week's contests, Trump's strong support among working class whites should serve him well in states like West Virginia, which votes on May 10, although he could fall to Cruz in the May 3 primary in Indiana, where the Texas senator is going all in.
With New Jersey's winner-take-all primary awarding its 51 delegates on June 7, the last day of voting, Trump is likely to benefit from the support of Gov. Chris Christie. That same day, California will allocate 172 delegates, and RCP currently shows Trump leading Cruz 40% to 31% there, with Kasich far behind at 16%. Should Trump accumulate victories in the weeks ahead, that margin may yet widen, boosting his chances of sewing up the nod before the Cleveland convention.
Feel the Bernout? On the Democratic side, Clinton's win last night put an end to a weeks-long winning streak for Sanders — and strengthened her already-formidable delegate lead. Including superdelegates, Clinton now boasts at least 1,927 delegates, while Sanders lags at 1,185. It takes 2,383 delegates to win the nomination, meaning Clinton needs only about 28% of the remaining delegates to clinch the nod.
Barring an utter catastrophe, Clinton will come in well above her delegate target.
According to RCP, Clinton leads Sanders 51% to 38% in Pennsylvania, where 189 pledged delegates are at stake, and 57% to 36% in Maryland, which will allocate 95 delegates. It's a bit tighter in Connecticut, where 55 delegates are up for grabs and Clinton edges Sanders 50% to 43%.
Clinton's victories in delegate-rich states like Florida, Texas, Ohio and now New York have allowed her to maintain a healthy delegate lead over Sanders, even as he picks up wins in a number of smaller states.
Sanders won't go winless in the race's final weeks: A recent poll showed white working class voters powering Sanders to a strong polling lead over Clinton in the May 10 West Virginia primary. One week later, Oregon's primary will draw a strongly progressive electorate, and the support of Sen. Jeff Merkley will give Sanders a major boost there.
Those wins may underscore the wide constituency that exists for Sanders' message of economic equality, but they won't be enough to overtake Clinton.
The bottom line: Welcome to the state of play. It's a lot like the old one.