Beyoncé Announces Additional Charity Stops to Her Formation World Tour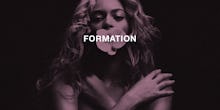 In February, Beyoncé called for fans to get in "Formation" with one of her most controversial and politically-minded anthems to date. Yet it seems the Queen is not content to simply sing about our country's past and future. She wants to have a hand in shaping these narratives, and she's inviting fans to enjoy it alongside her.
A representative for Beyoncé said during a Wednesday phone conversation the megastar's upcoming Formation World Tour has added stops at charities in Houston, Detroit and Compton, California. The "Formation" singer will be working with fans throughout her tour to support those impacted by the Flint water crisis and those fighting for women's rights. Volunteering and partaking in certain fundraising events will earn fans the chance to win VIP concert tickets to shows on her Formation World Tour.
Stand in formation. The three new stops Beyoncé has added to her tour won't just be concerts, but instead charity events centered on each of the local communities and their efforts to build sustainable change for future generations. 
In Compton, all proceeds from the event will benefit the Urban Education Institute, which engages youth in music and arts programs. In Houston, the singer's hometown, the event will support Pastor Rudy Rasmus' work with Bread of Life, which combats hunger throughout the city. The charities will also be engaging Beyoncé's fans through digital and on-site outreach ahead of her tour stops to support the people of Flint, Michigan. 
The singer, who's premiering a new hour-long documentary-style special Saturday, April 23 on HBO, will be enlisting the help of three charities in her mission to turn her world travels into more than just sold out concerts — Chime for Change, the global campaign she cofounded with Salma Hayek, Global Citizen, which she's been an active supporter of for years and United Way, an organization helping to develop Beyoncé's philanthropic initiative, the BeyGood campaign. 
"We're grateful that Beyoncé is lending her voice and support to those in Flint whose lives have been impacted by this crisis," Brian Gallagher, president and CEO of United Way Worldwide, said in a statement.
This is an action long in the making. Last year, Beyoncé sat down with Global Citizen for a full advocacy debriefing concerning issues the nonprofit organization was working on around the world, from women's rights to clean water and sanitation, Global Citizen's Global Director for business development and strategic partnerships Elizabeth Edelman said in a phone conversation Wednesday.
"She really engaged in that meeting, and in several followup meetings, and we were able to work with her not only on what she's passionate about, but what her BeyGood campaign is passionate about," she said.
Ivy McGregor, Parkwood Entertainment's director of philanthropy, is excited by the Formation World Tour's potential to truly engage Beyoncé's fans with such pressing issues. "We believe together we can make the world better — standing, living and giving in Good Formation," McGregor said in a statement.
Fans can learn more about the new initiative at Global Citizen's website. It's another sign Beyoncé's latest single is more than just a club anthem — she really does want to see her fans get in formation and change the world.
Read more: Global Citizen Is Aiming to Change the World with a Mumford & Sons, Kanye West Album