After Bill O'Reilly Doubled Down on His Racist Comments, Larry Wilmore Took Him to Church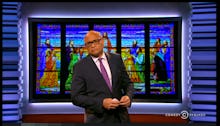 After taking down Fox News host Bill O'Reilly last week for his racist comment on black people — and a fictitious propensity for face tattoos — Larry Wilmore was up to the task again this week following O'Reilly's response. On Monday's episode of the O'Reilly Factor, the conservative host tackled the harsh backlash aimed at him, noting that his critics are simply "race hustlers." 
"The race hustlers — who apparently have not walked the streets of poor neighborhoods lately — immediately accused me of racism," he said. 
The Nightly Show host, who plastered a "F**K U O'Reilly" tattoo on his forehead last week, was having none of it. "No, regular people can accuse you of racism," he said. "And when the fuck have you ever walked in a poor black neighborhood? Like I'm supposed to believe you spend your Saturday strolling through Compton counting forehead tattoos, right?" 
However, if explaining why his comments were unjust and creating a #ForeheadSolidarity hashtag isn't enough to convince O'Reilly, Wilmore is just going to have to take him to church. And so, the host walks away from his desk and in front of a stained glass backdrop, and delivers a powerful sermon.  
"The devil has come in Bill O'Reilly's clothing," Wilmore said. "Now, you preach a message of a lack of hard work and motivation, Mr. O'Reilly, but what you fail to see is that black people work twice as hard to gain half as much. It's not tattoos on our foreheads that condemn us, it is separate but unequal education, red-line housing, banks that will not provide us loans and a criminal justice system designed to keep us in chains. Those are the proverbial forehead tattoos that consecrate the mark of the beast for black people in America." 
Wilmore's sermon draws a raucous buzz of amens from the audience. "We don't need tattoos on our foreheads when all people like Bill O'Reilly see is our inky black skin," he continues. "Did Eric Garner have a tattoo on his forehead when he was strangled in the street? No! Did Trayvon Martin have a tattoo on his forehead when George Zimmerman decided to end his life?" The crowd shouts back a resounding "No!" in agreement. 
"Demons walk among us, church, and earthly demons like Bill O'Reilly may pretend that they are the victims, but we know better," he says. "Though they cry the tears of oppression, they are the ones who are doing the oppressing with their blasphemous lies." 
Amen.  
Check out the clip from the Nightly Show here.
Read more: "F**K U O'Reilly": Larry Wilmore Has a Brilliant Response to the Host's Racist Tirade