Kim Kardashian West Revealed a Side of Breastfeeding Few People Talk About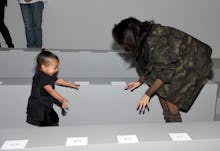 Kim Kardashian West, mother of two, revealed on her sister's talk show Kocktails With Khloe that she had to stop breastfeeding Saint West because of firstborn North West's jealousy, according to Yahoo News. Kardashian West gave birth to Saint in December. 
"I was feeding him on [one] side and she was so jealous that she took her little milk box and put it in my bra with the straw sticking out and she wanted to drink while he was drinking," Kardashian West said, adding that two-year-old North would "cry so much "and try to "pull" Saint West off of her. By the time North was over her jealousy, Kardashian West was no longer able to breastfeed. The episode of Kocktails With Khloe airs Wednesday. 
By sharing this candid struggle, Kardashian West shed a light on an issue experienced by many breastfeeding parents with multiple children, in which the older can be confused and jealous of the younger, according to Parents. 
Read more: Kim Kardashian West Claps Back at Her Slut-Shamers in a Scathing Tweet Storm
Kardashian West first opened up about the challenge to feed Saint when North was present on a blog post in January, E! Online reported. "For some reason, North hates when I feed the baby, and she lays on my lap so Saint can't be right in front of me to eat," Kim wrote, according to E! Online. To solve North's attention issue, Kardashian West began including her in the process by pumping and then letting North give Saint the bottle. She added, "She loved helping me, as opposed to my attention being off her, and now she is my little helper."