Phylos Bioscience Startup Made a 3-D Interactive Map of Almost 1,000 Marijuana Strains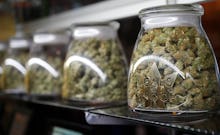 Most people come face-to-face with marijuana strains in dispensaries, on a forum or from a dealer, but what if they could scroll through about 1,000 strains and their "statistical relationships" through a three-dimensional graphic? On Wednesday, Oregon startup Phylos Bioscience is releasing such a tool, called Galaxy, online in collaboration with New York's American Museum of Natural History, according to the New York Times. 
Described on its website as "a 3-D visualization of the cannabis world," Galaxy looks like outer space, since the closer strains are to each other, the more alike they are, and vice versa. This organization has resulted in clusters of "families" due to marijuana's interbreeding.
Read more: There's a Big, Surprising Benefit to Eating Weed Rather Than Smoking It
Galaxy was made by sequencing the genetic DNA of marijuana samples into something like a bar code, co-founder of Phylos Bioscience Mowgli Holmes told the New York Times. Other than being a treat for the eyes, Galaxy offers an accurate representation to help clarify the convoluted genetic history of marijuana — which is necessary as the plant continues to be commercialized.
"That has created a very localized market because of that access to the product when it was underground," Nishan Karassik, Phylos Bioscience's co-founder, said. "All other plants and animals have clear pedigrees. We need to create a pedigreed system to clarify this."
In the future, Phylos Bioscience wants the Galaxy map to have more details of genotyping, such as how many cannabinoids each strain has, which may come from breeder's themselves (for a small fee to be featured). "People who love particular strains will be able to find them again, patients will have access to standardized medicine, and breeders will be able to create like never before," the website said.