Snapchat's 420 Bob Marley Filter Is Under Fire for "Digital Blackface"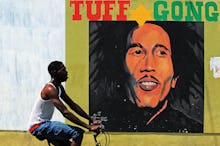 April 20 is a day of celebration for weed smokers everywhere. But for some, the 420 buzz is wearing off over Snapchat's decision to mark the holiday with a Bob Marley filter.
The filter mask, which Snapchat says was created in partnership with the Bob Marley Estate, gives its wearer dreadlocks, Marley's signature hat and, well, a black face. 
Some are calling it "digital blackface" — a modern form of the old theater practice that had white people coat their faces in black paint to play a black character. 
Other users took issue with Snapchat highlighting Bob Marley as a weed smoker, rather than the legendary musician that he is.  
This is not the first time a facial filter program has used a famous person of color as inspiration. Mobile app MSQRD, which was acquired by Facebook in March, featured a Barack Obama filter, which doesn't appear to have come under the same scrutiny.  
With its 100 million daily users, Snapchat is subject to more criticism. 
Snapchat, if you're looking for recommendations, how about turning faces into a pizza with bloodshot eyes instead?