This Donald Trump Micropenis Portrait's New Home Is a Sick Burn to the GOP Frontrunner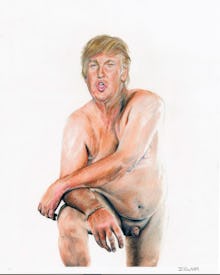 Despite the markedly negative connotation of a naked portrait featuring a micropenis, the art from self-described "gender-fluid futurist" Illma Gore has been exhibited at London's Maddox Gallery after its controversial run in the United States. The piece in question featured the likeness of GOP frontrunner Donald Trump, sporting a micropenis and an on-point dad bod, and the image was indefinitely banned from Facebook in March. 
Now, however, the portrait has a new home back in the U.S., and its purported location is an equally demeaning slight for the real estate mogul. According to Salon, Gore's masterpiece will be hosted by the Erotic Heritage Museum in Las Vegas, which, as the name implies, is a museum that preserves erotic artifacts and fine arts.   
"As an institution built on the free discourse of sex, politics and culture, we have been following the question over Trump's endowment since Marco Rubio mocked Trump's small hands back at the beginning of the year," Victoria Hartmann, executive director of the Erotic Heritage Museum, said in a statement. "Unlike other U.S. galleries, the EHM is not afraid to show work of a controversial nature ... in fact we feel it is important to do so." 
Certainly, the piece has drawn a lot of buzz, and for once, it might be creating headlines that Trump would like to avoid. 
You can check out Gore's portrait, in all its detailed glory, below. 
Read more: An Artist Drew Donald Trump With a Micropenis — and It May Get Her Banned From Facebook
h/t Salon