Here's What Happens When You Text Pornhub an Eggplant Emoji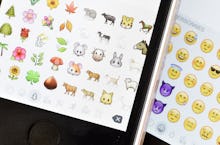 It's 9 a.m., and I I just texted a joystick emoji to Pornhub, which immediately sent back a video of a dude masturbating. 
Pornhub launched Emoji 4 Porn on Wednesday, an emoji mobile video delivery service that lets you send a text to a designated number (in the U.S., it's 646-760-PORN) and receive a link to a free, specially curated NSFW clip. 
Here's a chart showing what you can send, though it's just the tip of the sex iceberg. 
A few emojis are unlisted on the public landing page, so through trial and error you can unlock additional categories. We figured out corn, a high heel and a banana. Go forth and unlock the other fuck icons. 
"Think of it as our way of spreading the love, digitally," Pornhub vice president Corey Price said in a press release.
What's it like to use? The service is convenient. Way too convenient. While porn is accessible enough already — I can type pornhub.com into my browser and see real-life eggplant emojis galore — this makes consuming smut that much quicker and that much more discreet. When you text the emoji, you'll get a text from a random number with a porn link. After a while, though, your phone starts to fill up with messages like these:
This isn't a novel idea: Domino's lets users tweet a pizza emoji for delivery (though that's far from instantaneous) and Aloft Hotels lets you text emojis to the front desk for room service. Now you can add a cache of emojis to your spank bank.
Oh, and if you were wondering, here's what you get if you send a corn emoji: