Kourtney Kardashian and Justin Bieber Dating Rumors Swirl, "Cougar" Talk Sweeps Internet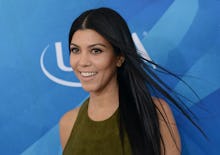 Maybe you are thinking, "Wait but isn't she married, though?" No. In fact, Kourtney Kardashian, 37, is single and apparently ready to mingle, specifically and for some months with 22-year-old Justin Bieber. A source told People:
"They have hooked up a few times, including recently. It happens in LA. He has met her kids, but they don't hook up around the kids. It's on nights when she has help and is able to go out."
Read more: Justin Bieber Got Choked by Post Malone for Allegedly Burning Him With a Cigarette
Kardashian has three kids with ex-husband (and sustained associate of the Kardashian family) Scott Disick, who reportedly still thirsts for her love. 
The only evidence of the Kardashian-Bieber connection we have is this video of the pair exiting a nightclub together six months ago and this picture that Bieber posted on his Instagram, which has since been deleted but was thought by some to show him and Kardashian enjoying a tender-ish moment on the hood of a car. Nothing is concrete — that hasn't stopped the gossip magazines of the world from tossing around the c-word, though. You know the one: cougar.
"Cougar Kourtney Kardashian dating Justin Bieber again!" RadarOnline reported. "Cougar Town! Kourtney Kardashian Hooking Up With Justin Bieber Again," said OK! Magazine.
If indeed Kardashian and Bieber are dating, we wonder how she feels about his controversial dreadlock decision — and not much else. Men date much younger women all the time; it's generally regarded as par for the course. Maybe we call them silver foxes, but that sounds a lot more complimentary and a lot less predatory than the "cougar" label. So let's retire that term and leave these two to their business, whatever that business may be.