Maine Wants to Make Medical Marijuana Available for Opioid Addiction Treatment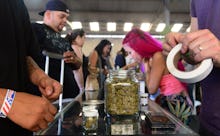 On Tuesday, more than two dozen medical marijuana advocates attended a public hearing in Augusta, Maine, to make the case that medical marijuana can help ease the negative symptoms associated with pain-relieving opioid medications and illegal drugs, according to CBS News. 
This could be the beginning of good news for supporters of medical marijuana in Maine — no other state in the country acknowledges the addiction to drugs and prescription medications as a requirement to qualify for medical marijuana. According to the Maine Medical Association, Maine could potentially be the first to add the specific condition, CBS News reported. 
A number of states, along with the District of Columbia, have already legalized marijuana in a medicinal form. Although the Drug Enforcement Administration currently labels medical marijuana as a Schedule 1 substance "with no currently accepted medical use and a high potential for abuse," advocates contend that there are plenty of positive aspects of using the drug for medicinal purposes. 
"Marijuana saved my life for sure," 23-year-old Britney Lashier, who suffered from a heroin addiction during college and used marijuana to help abandon it, told CBS News. 
Read more: There's a Big, Surprising Benefit to Eating Weed Rather Than Smoking It