Constance Wu and Ming-Na Wen Just Spoke Out Against Hollywood Whitewashing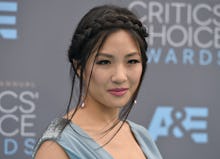 At a Los Angeles conference on Saturday, Fresh Off the Boat actress Constance Wu called the reported testing of CGI to help Scarlett Johansson appear Asian for the upcoming movie Ghost in the Shell "heinous." 
Wu called out Hollywood whitewashing, specifically addressing the controversy surrounding the casting of Johansson, BuzzFeed reported. 
Read more: Scarlett Johansson and Tilda Swinton Got Cast in Asian Roles and People Are Pissed
But what really incensed Wu was the idea that someone could be Asian just through the use of CGI, which "reduces our race and our ethnicity down to mere physical appearance," she said, according to BuzzFeed. "And as we all know, our ethnicity, our races and our culture are so much deeper than how we friggin' look." 
When actress Joan Chen, also on the panel, defended some directors' "creative freedom" to cast whom they choose, Wu spoke up about the systemic racism that informs many casting choices.
"A lot of people's visions of who they think looks like their hero is rooted in systemic racism," Wu said, BuzzFeed reported. 
Wu called for directors to create more roles for Asian actors and actresses. 
"I don't think it is bad for them to be challenged to think outside their boxes. ... I don't think it will reduce their work for them to think, 'What if I cast this person as a Latina?'" she said, according to BuzzFeed.
Wu was not alone in calling for Hollywood inclusion. Ming-Na Wen, voice of Mulan in the Disney film Mulan, also called for greater Hollywood diversity. 
"The whitewashing will just continue and continue if [white filmmakers] become comfortable," Wen said, BuzzFeed reported.
Wen also addressed the several jokes made at the expense of Asians at the 2016 Academy Awards, the report said. "Culturally, I think it is not in our nature to confront these types of conflicts, to voice our concerns, to band together to voice our concerns, and that needs to change," Wen said.
"We have to fight our own fight."
Both Wen and Wu added that Asian actors and actresses need to be more vocal in fighting discrimination.
Wu said the scarcity of roles available to Asians in Hollywood may impede Asian actors and actresses from speaking up.
"The thing we need to learn is ... the job is not worth it, because jobs come and go," Wu said, according to BuzzFeed. "I hope the Asian community starts becoming more vocal."
Read more: Scarlett Johansson and Tilda Swinton Got Cast in Asian Roles and People Are Pissed
h/t BuzzFeed