These Driverless Pods Will Be Whizzing Down Singapore's Roads by the End of 2016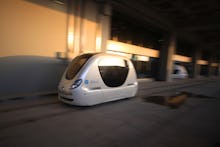 Singapore is getting yet another autonomous transit system. 
Dutch autonomous vehicle-maker 2getthere has signed an agreement with a local transit operator to supply the city-state with autonomous pods. The company said it plans to deploy 24-passenger driverless pods around Singapore before the end of 2016. 
All of 2getthere's vehicles run on electric engines, though some cars feature hybrid technology, according to the company. Currently, 2getthere has pods running in Rivium Business Park in the Netherlands and in Abu Dhabi's Masdar City.  Most implementations have been on campuses like an airport or in a business park, however 2getthere says it's working on integrating its vehicles into "mixed-use traffic operations" by taking part in global research projects. 
This is just the latest autonomous transit project slated to hit Singapore's streets. Earlier this year, a company called nuTonomy announced plans to release its driverless taxis in Singapore's One North business district. 
Meanwhile in the U.S., fully autonomous vehicle projects from Google and Tesla haven't been released yet. Though some people are already losing their minds over Tesla's autopilot feature, it's a far cry from the truly autonomous vehicles that will soon be cruising Singapore's roadways. 
h/t Mashable