Criminal Charges Announced in Flint Water Crisis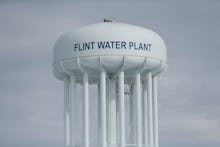 Months after the first cases of lead poisoning came to light in Flint, Michigan, the state's Attorney General Bill Schuette, along with the Flint water investigation team, have announced the first criminal charges connected to the scandal on Wednesday.
"They failed Michigan families," Schuette said at a press conference. 
According to the Detroit Free Press, "Mike Glasgow, the city's laboratory and water quality supervisor; Mike Prysby, a Michigan Department of Environmental Quality official; and Stephen Busch, the suspended Lansing district coordinator for the DEQ's Office of Drinking Water and Municipal Assistance," all face multiple charges. 
Read more: 'Don't Send Water': Michael Moore Laid Out the Painful Truths About Flint in This Letter
The move is the latest in a series of swift actions taken by the state in response to the crisis. On Monday, embattled Republican Gov. Rick Snyder traveled to the stricken city and drank from filtered tap water. Snyder, who has faced a steady drumbeat of calls to resign, now insists that filtered tap is safe and vowed to exclusively drink Flint water for the next month to prove it.
"I completely understand why some Flint residents are hesitant to drink the water and I am hopeful I can alleviate some of the skepticism and mistrust by putting words to action," Snyder said, the Detroit Free Press reported. "Flint residents made it clear that they would like to see me personally drink the water, so today I am fulfilling that request. And I will continue drinking Flint water at work and at home for at least 30 days."
As Mic previously reported, the crisis was long in the making and started when the city started getting its water from the Flint River instead of from Detroit. The Flint River water ended up corroding the city's pipes, exposing residents to dangerous toxins.