The Next Frontier of Medical Marijuana Is in Our Schools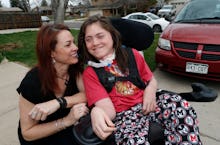 On the morning of Wednesday, April 20, cannabis activist Stacey Linn wasn't exactly celebrating. Instead, when I reached her, Linn was on her way to the Colorado State Capitol Building to campaign for her son's right to use medical marijuana on school grounds. 
Linn's 15-year-old son, Jack, has cerebral palsy with severe dystonia: involuntary muscle contractions that cause his body to become twisted and distorted. 
Horrified by the sedative side effects of some of Jack's pharmaceutical medications, Linn began giving Jack drops of the cannabis-derived compound cannabinol, or CBN, instead. The improvements have been remarkable.
"It's heart-wrenching to watch your kid like that," Linn, who is also the executive director of the CannAbility Foundation, said of Jack's old pharmaceutical meds. "I put two tiny drops of [CBN] under his tongue, and wham! He is calm and still and not stoned." 
With CBN, Jack is happier, Linn said. He can spend more time at school. He even flirts with girls. 
"I just can't tell you how amazing it is," Linn said.
There's just one problem. Despite medical marijuana now being legal in 24 U.S. states — with Pennsylvania the latest to join the club — one group of people still struggles to access it: students.
Only three states — New Jersey, Maine and Colorado — have made it legal for kids to take medical marijuana at school. Even in those states, individual schools still reserve the right to decide whether they'll allow it on their campuses; after all, marijuana is still illegal under federal law.
In November, the Larc School in New Jersey became the country's first school to allow medical marijuana on campus. Schools in Maine are jumping onboard too. But in Colorado, where Jack goes to school, none of the state's 178 school districts has enacted such a policy, according to the Denver Post. The result, Linn said, "is kind of don't ask, don't tell": Some families are forced to keep their kids' medical marijuana treatment a secret.
That's where Linn's mission at the capitol comes in. Her bill would require Colorado schools to permit parents to give their kids medical marijuana treatments on school grounds. 
Last week, the bill passed 10-3 in the House Agriculture, Livestock and Natural Resources Committee. Today, Linn is reading her bill on the House floor; after that, it'll have to go through the Senate. 
Linn's life now revolves around marijuana, but it's worth it if it means Jack — and other kids who need medical marijuana — can have access to the medication that works best for them. 
"I will fight to the death until these kids can go to school with [medical marijuana]," Linn said.
Linn isn't alone: Another of the bill's supporters is Amber Wann, whose 14-year-old son, Benjamin, has been using a Charlotte's Web hemp medication to manage his epilepsy. Since starting on Charlotte's Web — and ditching his old anti-seizure medication — he's been getting better sleep and performing better in school.
"I realized he was singing to songs on the radio for the first time," Wann said in a phone call Wednesday. "He's never been able to remember them: The [anti-seizure] medication suppresses his memory."
Cannabis products have long been known to fight symptoms of epilepsy. Parents say the meds have saved their children from hundreds of seizures a month, according to NBC News. In December, researchers at NYU Langone Medical Center found that cannabidiol, or CBD, was effective at managing treatment-resistant epilepsy.
Wann said that in December, a school nurse reported her to Child Protective Services, claiming Wann had been giving her son an illegal drug. CPS eventually dropped the case — Charlotte's Web has low enough THC to be considered hemp — but Wann still wants the law to change.
"It is so vital right now that we push for these school districts to write a policy," she said. Without schools allowing their kids to take medical marijuana on campus, "families are hiding. They are in the shadows."
As for Linn, she expects to know whether her bill will pass within the next few weeks. The fight will be hard until the federal government decriminalizes marijuana, but "it doesn't matter," Linn said. "Our kids need their medicine."
The next day, Linn confirmed her bill passed in the House. "It was officially named 'Jack's Law,'" Linn said. "Jack is so proud."
On May 3, the Colorado Senate approved Jack's Law in a unanimous vote, a press release announced. In a text message, Linn conveyed her elation: "We did it!" 
April 21, 2016, 12:39 p.m.: This story has been updated.
May 3, 2016, 4:06 p.m.: This story has been updated.