Nevada Brothels Are Speaking Out Against Virtual Reality Porn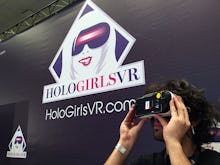 Strapping a box to your face isn't the most intimate way to experience human interaction — but virtual reality porn is here and not everyone is fired up about it. The latest haters: Nevada brothels. 
"People are going to visit the top sex tourism city so that they can masturbate alone in a room?" Dena, the manager of Sheri's Ranch, a legal brothel in Nevada, told the Guardian. "I don't think so." 
The solo masturbators she referenced are partakers in virtual reality porn — a service that is reportedly coming to Las Vegas hotels, thanks to a partnership between porn company VR Bangers and the crowdfunded headset AuraVisor, PCMag reported. The romp in the void will reportedly cost $20 per experience.
"People need human contact – it's not just something that's a want, it's an actual need," Dena told the Guardian. "Look at newborn babies, they survive better with human touch. As adults we need that as well."
A madam at another legal Nevada brothel, Calico Club, echoed Dena's sentiments. "The human touch is everything," Jennifer O'Kane, who said she has been running the brothel for five years, said in a phone call. 
"VR porn is a masturbatory tool, not an adventure," Sheri's Ranch spokesperson Jeremy Lemur said in an email. 
So it's likely not brothels that these virtual reality porn experiences will put out of business — but old fashioned X-rated video creators. Rather than purchase pay-per-view porn on the hotel TV, hotel guests may turn to more immersive choices — like virtual reality porn. 
Lemur agrees that virtual reality porn won't jeopardize the legal brothel business. "We've seen many adult industry technologies emerge over the years that were said to be potential threats to sex workers, such as the high availability of online pornography, video chat cybersex, fleshlights and the like," he said. "None of these have negatively impacted business at Sheri's Ranch." In fact, he said that 2015 was its "best year to date." 
For most men that come to the brothels, "it's not about the sex, it's about the human touch," O'Kane said. "That is why they come in, it is lack of human touch." 
"It's not about the sex, it's about the human touch."
O'Kane also doesn't think an intangible experience will cater to everyone's needs. 
"That [virtual reality porn] isn't going to satisfy the fetishes people have out there," she said. "They may be doing it to you, but you won't be able to feel it." 
With haptic feedback suits and masturbatory devices, you can complement a viewing experience with sensations, but silicone breasts attached to an electrical body suit are still far from simulating an actual living, breathing human body. 
April 20, 2016, 3:20 p.m.: This story has been updated with comments from Jeremy Lemur.