India Wants British Crown Jewel Diamond Back — Here's Why It Matters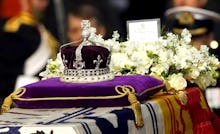 The Koh-i-Noor is no ordinary diamond. It is a whopping 105.6-carats and originally from the Indian subcontinent. One of the biggest diamonds in the world, its name translates to Mountain of Light. After the British East India Company stole or was gifted it (depending on whom you ask) in 1849, it ultimately became part of the Crown Jewels, sitting atop one of the monarch's crowns. And now India wants it back. 
On Tuesday, India's Ministry of Culture said in a statement that it "reiterated its resolve to make all possible efforts to bring back the Koh-i-Noor diamond in an amicable manner," CNN reported.
Read more: The Strange History of How Hitler's "Mein Kampf" Became a Bestseller in India
However, the statement confusingly came just one day after the solicitor general, Ranjit Kumar, told the Supreme Court the Koh-i-Noor was neither "forcibly taken" nor "stolen." 
The diamond was reportedly given to Britain by an 8-year-old king, though it is argued that the diamond was "given under duress," reported the New York Times. 
"If we claim our treasures from other countries, every other nation will start claiming their items from us," Kumar said in defense, according to the Telegraph. "There will be nothing left in our museums."
Chief Justice T.S. Thakur was seemingly unconvinced, responding: "We have not colonized any other country and taken out their artifacts. What are you worried about?"
Political activist Ragini Nayak shares Thakur's concerns, it would seem, based off one of her tweets Wednesday.
In a display of just how contentious the matter is, member of the Parliament of India Pritish Nandy said on Monday the diamond should "remain where it is."
Pakistan is trying to get in on the action, too. The Lahore High Court accepted a petition on Feb. 8 calling for the return of the Koh-i-Noor. The lawyer leading the case, Javed Iqbal Jaffry, argues the diamond actually came from a region which now constitutes part of present-day Pakistan.
Kumar's concern references similar fights, such as Greece's attempts to reclaim its Elgin marbles, which currently reside in the British Museum. Countries demanding their artifacts from former empires remains one of the most publicized relics of colonialism — and they're battles yet to be won.