Rihanna "Needed Me" Video Drops, Features Songstress Shooting Someone, Lots of Strippers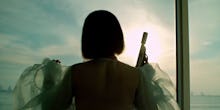 Less than a month after "Kiss It Better," Rihanna has released a music video for another Anti track: "Needed Me." And what is the impromptu reason for Rihanna releasing this music video? "Just because it's 420," said Rihanna, noted weed enthusiast.
Read more: With the "Kiss It Better" Video, Rihanna Is Now the Queen of Nipple-Baring Tops
Of course, this isn't Rihanna's first release with weed day in mind; in 2015, Rihanna previewed eventual Anti interlude "James Joint" in celebration of 420. In the morning, Rihanna had previewed the "Needed Me" music video on Twitter and Instagram with images of her holding a gun and wearing nipple-baring negligee.
The music video opens with Rihanna walking out onto a sunbathed patio, puffing on a blunt.
Eventually, Rihanna makes her way into a strip club, setting her sights on a patron with demonic makeup.
When he flings a wad of money in Rihanna's face, she returns the gesture with lead.
The music video was directed by Harmony Korine, filmmaker behind Kids and Spring Breakers. Watch the music video below:
Correction: April 20, 2016