"Athleisure" Is Now Actually a Real Word, Thank You Kate Hudson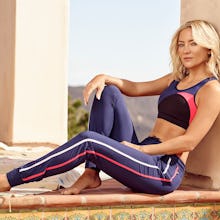 Athleisure, the style trend that has generously given you permission to wear leggings anywhere at any time, is now officially a real world. 
On Wednesday, Merriam-Webster Unabridged dictionary announced the news, saying that the wordsmiths have added 1,400 new words and phrases to its dictionary, and athleisure, a look that makes you look active and healthy when you're probably really not, would be one of them. 
Read more: Fabletics Takes a Big Swipe at Lululemon With a Bleep-Filled Commercial
Blame fashion magazines, Taylor Swift, Kate Hudson, Beyoncé (who probably had something to do with this since she just launched her own athleisure line like a week ago) and Lululemon's evil empire. 
"The new entries and senses offer a kind of snapshot of how exactly our language expands," the blog post stated. "It doesn't happen quickly — we monitored many of these words for years before they'd met our criteria for entry — and it's pushed by various fields and endeavors." 
Below is the exact definition: 
As the publication noted, "The term, if you haven't already heard it, has been used in recent years to describe a rising and broad category of apparel that is basically clothing which can work for athletic pursuits, leisure time or both." 
(We'd argue that the "both" part is how a majority of this athleisure is worn.) 
The definition itself is all well and good and accurate and fine, but what's really important to see here is that, according to Merriam-Webster, the word athleisure was first noted in 1976, though in regard to what exactly, we don't know. Some guesses would be that it was in reference to someone who was athletic but leisurely, or an intensely lazy active person. That definitely doesn't make sense, but then again, does athleisure really have to? 
h/t Racked