Treasury to Announce Harriet Tubman to Appear on the $20 Bill, Hamilton Will Stay on $10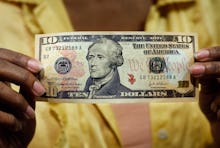 Sources told Politico the U.S. Treasury Department would announce Wednesday that former Treasury Secretary Alexander Hamilton will remain on the $10 bill, and abolitionist Harriet Tubman will replace former President Andrew Jackson on the front of the $20 bill (Jackson will appear on the back of the bill). A Treasury official later confirmed the announcement, according to CNBC and the New York Times.
Changes are also in store for the $5 bill, to include "civil rights era leaders," Politico reported. This comes after much public support for adding a woman to U.S. paper currency, including campaigns heralded by advocacy group Women on 20s.
In June, Treasury Secretary Jack Lew announced the department planned to add a woman to the new $10 bill, not the $20, saying, "I'm proud to announce today that the new $10 bill will be the first bill in more than a century to feature a woman." In August, a poll indicated former first lady Eleanor Roosevelt was the leading choice among Americans for the new female face on paper currency.
In March, the Treasury Department seemed to be switching direction when Lew hinted to Lin-Manuel Miranda, creator of the hit Broadway musical Hamilton, that Hamilton might be hanging on to his position on the $10 after all. Those rumors were seemingly confirmed when news broke that, rather than redesigning the $10 bill, the department would reportedly announce a plan to replace Jackson with Tubman on the $20.
April 20, 2016, 5:05 p.m. Eastern: This story has been updated.
Correction: April 20, 2016